About BlackBerry DTEK50
The world's most secure Android smartphones.

The DTEK60 and DTEK50 ensure that how you share the private details of your life is your decision. Not all smartphones are equally secure. With the DTEK series of smartphones, you have built in armor protecting your personal information.

Fully Android.

DTEK50 comes with Android 6.0 Marshmallow, giving you full access to Google Play, home screen widgets, Google Now, and the ability to easily connect to the things you use every day like your TV, car and connected systems in your house.

Google Play apps.

Get full access to over one million applications with the DTEK60 and DTEK50. Whether it's Uber, Spotify, Instagram or BBM.

Pop-up widgets.

BlackBerry Pop-Up Widgets allow you to view any app widget by simply swiping up or down across the icon on your home screen, giving you fast and private access to the information you need, when you need it.
eBay has provided more information about this product above and is not affiliated with or endorsed by BlackBerry.
Compare Similar Models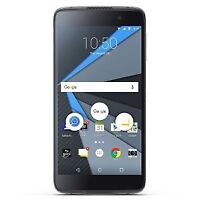 BlackBerry DTEK50
Operating System
Android 6.0.1
Screen Resolution
1080x1920
Processor
1.2 GHz octa-core