About JBL Flip 3
Showing slide {CURRENT_SLIDE} of {TOTAL_SLIDES}
Wireless Bluetooth streaming.

Wirelessly connect up to 3 smartphones or tablets to the speaker and take turns playing surprisingly powerful, room-filling stereo sound.

3000mAh rechargeable battery.

Built-in rechargeable Li-ion battery supports up to 10 hours of playtime.

Speakerphone.

Take crystal clear calls from your speaker with the touch of a button thanks to the noise and echo cancelling speakerphone.

All purpose, all-weather companion.

JBL Flip 3 is a Bluetooth speaker delivers surprisingly powerful, room-filling stereo sound everywhere. It is powered by a 3000mAh rechargeable Li-ion battery that offers 10 hours of continuous, high-quality stereo audio playtime.
eBay has provided more information about this product above and is not affiliated with or endorsed by JBL.
Price Trends
JBL Flip 3 - Price Used
Used Price*
from $39 to $48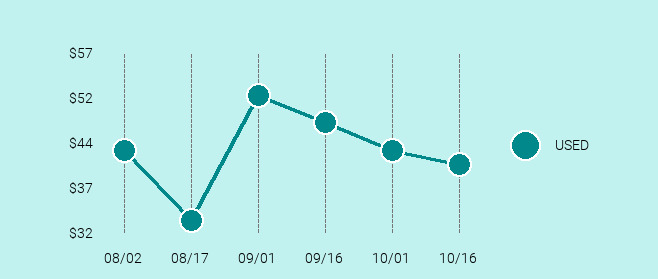 *The average sold price is calculated based on "Buy It Now" items sold within the 90 day period described above (excluding shipping and handling). Each interval represents a 15 day period. There is no guarantee that items will always be listed at a price within the provided range.
Compare Similar Models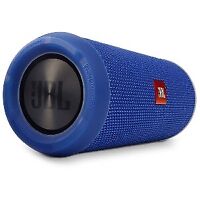 JBL Flip 3
Connectivity
Bluetooth 4.1, 3.5mm Audio Cable
Simultaneous Connections
3
Showing slide {CURRENT_SLIDE} of {TOTAL_SLIDES}
JBL Go 2

Connectivity

Bluetooth 4.1, 3.5mm Audio Cable

Simultaneous Connections

1

JBL Boombox

Connectivity

Bluetooth 4.2, 3.5mm Audio

Output

2x 30W (AC), 2x 20W (battery)

Battery Capacity

20,000 mAh

Simultaneous Connections

2
Top 5 High ratings
Top 3 Low ratings
Compact & loud.

Love this! I needed something very compact and very portable to use with my computer, my MP3 player & my phone that I could move around very easily. Something with a lot of power that sounded good and this is it. This little alien spacecraft-looking speaker box is so good, I absolutely love it! The only problems with it are the fact that it only works with old iPhones or old iPods I guess; but I have a Zune anyway as it has a line in port. Also the volume is only on the remote. So that's a downside and the remote is a teeny tiny thing that could easily get lost. I rectifed this by putting velcro on the back of the remote and on the unit itself, that way I won't lose the remote which would really suck, cause then I'd have no way to adjust the volume on the unit itself, & I just wouldn't get the great sound quality this unit has to offer without it. Runs great on 6 AA batteries. Took it camping, it played for hours. Also has non slip bottom which is very helpful. Can't say enough good things about this unit. Love the UFO look to it as well.

Verified purchase: Yes

Best Bang for the Buck!

Years ago I purchased the original JBL Flip after they were first released. I was always pleased with the sound quality and felt it was a well made speaker. The only drawback was its battery life. 4 hours was a stretch and when I used it out and about, like at the beach, it never could last long enough., , This newest version of that speaker is absolutely wonderful!, , This is my second one to buy. I wanted to get two of them so that I could link them together for a more spacious sound field using JBL Connect., , I could not be happier with the sound of these tiny speakers., , With only one speaker playing solo, the experience is great. I pair it with my Amazon Echo Dot and use it for listening to my Amazon Prime Music account. It fills the whole house with music. The passive radiators really deliver the lows so that you never feel like you are missing anything. Very clear sound. Virtually no distortion unless at full volume and that is only with music that has lots of bass, like Hip Hop or Rap. But even those genres sound great. No complaints there., , Now with the addition of a second Flip 3, my house sounds like a concert hall. You can select whether you wish to have separate right and left channels or have it in "Party Mode" where each speaker gets both right and left channels., , I understand that with the JBL Connect feature that you can link up to four speakers together., This might happen in my near future. I'm addicted to these high performance speakers!

Verified purchase: Yes

Great value, great quality

SHIPPING: This product was in pretty great condition for the price. It was not delivered to my house properly because I was not home at the time of delivery, but I have done some research and it seems to be a normal thing for ebay products., , Sound quality: the sound of this speaker is incredible. I would except great sound quality from JBL and that's exactly what I got., , OVERALL: I would recommend this product. It is great value for such great quality (around $50 off from brand new and mine only had one small chip on the corner.) I would recommend that you buy this product from this seller.

Verified purchase: Yes

I like it!

I've used it a couple of times. Sound is great for the size and the price. Didn't want anything extraordinarily special. Just wanted a good sounding, portable Bluetooth speaker. I already have an older Flip 2 and it's great. They should sell this one with a carry case, like they did the Flip 2., , So, my biggest complaint is that the bass speakers are on the sides, exposed. Seems like you could inadvertently damage one or both of them. Also, the Flip 2 stood on end taking up a smaller footprint (nice when space is tight)., , Still in all, this one seems to be a very good buy given the price and the sound. The Bluetooth link up was easy and went without a hitch.

Verified purchase: Yes

Best Bluetooth speaker ever!

This little speaker really packs a punch! It's small enough to carry everywhere and sounds great. The sound is clear and can get really loud. I've only been able to raise the volume full blast once or twice without it getting uncomfortable. It's been with me to BBQs, the beach, and to picnics at the lake where it was the primary source of music and i still could not raise the volume completely without others complaining. Amazingly durable and the battery life is more than adequate for whatever occasion. The micro usb charger is fantastic because there is always a charger somewhere and the music will play even while charging. Can't talk highly enough of this thing.

Verified purchase: Yes