Buscar por Capacidad de almacenamiento
Buscar por Estado de bloqueo
Diapositiva {CURRENT_SLIDE} de {TOTAL_SLIDES} - Buscar por Estado de bloqueo
Ofertas por tiempo limitado
About Motorola Moto G
Showing slide {CURRENT_SLIDE} of {TOTAL_SLIDES}
A modern look.

Showcase the phone without a case. With no physical buttons on the phone's surface it has a smooth-looking appearance, navigation buttons appear on-screen as you move through screens.

Controls are easy to find.

Easily control the Moto G with power and volume buttons on the right side. The mic and 2.0 micro-USB port is on the bottom. A second mic is on the top edge along with a headphone jack.

Protected screen and cover.

The matte finish on the back improves grip control. Corning Gorilla glass 3 keeps keys and other objects from scratching the phone's front and keeps fingerprint smudges to a minimum.

Onboard storage to save your favorites.

The internal storage drive has room for 8 or 16 GB of data which you can use to store photos, videos, files, or a mix of all three.
eBay has provided more information about this product above and is not affiliated with or endorsed by Motorola.
Price Trends
Motorola Moto G - Price New and Used
New Price*
from $98 to $130
Used Price*
from $61 to $88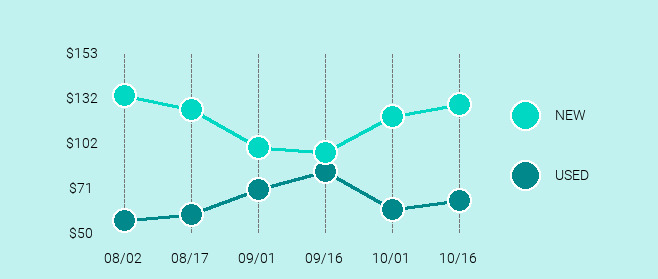 *The average sold price is calculated based on "Buy It Now" items sold within the 90 day period described above (excluding shipping and handling). Each interval represents a 15 day period. There is no guarantee that items will always be listed at a price within the provided range.
Compare Similar Models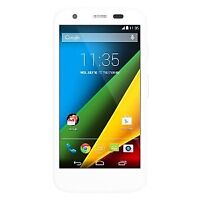 Motorola Moto G
Operating System
Android 4.3 Jelly Bean, upgradable to Android 5.1.1 Lollipop
Processor
Qualcomm Snapdragon 400, Quad-core Cortex-A7 1.2 GHz
Internal Storage
8 GB / 16 GB
Display Resolution
1280 × 720
Size
5.11 x 2.59 x 0.46 inches
Showing slide {CURRENT_SLIDE} of {TOTAL_SLIDES}
Top 5 High ratings
Top 5 Low ratings
Spend the money it's worth it!

I do not write reviews even if I really like a product, but I must on this phone because it is amazing! Everything has synced seamlessly, I have never had a phone that has worked this well from the moment I got it. Previously I've have had 6 inch screen size phones and I love how big the screen is, so I was leery of purchasing this phone because it was the smaller screen but this screen size has really worked out because it fits in my hand better it doesn't hurt my thumb as much to go all the way across the screen. I've never owned a Motorola, I usually have a Samsung of some kind, also ZTE. I definitely recommend this phone. I am starting a small business and I use my phone for everything, so there is a lot of information that is going into and out from the phone and I needed a reliable cell phone. My mother is the one that recommended me trying the Motorola, my last phone which was a ZTE blade zMAX which I had for 2 months I dropped it on the carpet in my living room it turned off and never would turn back on you're not supposed to take those phones apart but I did to see if I could change out the battery and the battery was literally bent in half it was mush, LOL my children say it's because I'm on it so much. So my mom recommended me try this phone and I have not had one time where it has overheated, turned off without me asking it to, nor has it hesitated to perform any action that I've asked of it. The storage capacity is amazing I have downloaded many apps, but for game players I don't know because I don't play games on the phone, but I have not run out of storage space it hasn't slowed down the phone with a number of apps that I have downloaded onto the phone. If I could give it 10 star review I would this phone is definitely worth the money it's a great size as I said before, I have average woman hand size and it fits in my hand perfectly., , Two thumbs up and I will definitely recommend this phone to all my friends and family and anyone else that wants to listen!! Excellent purchase!!!

Verified purchase: Yes

Almost perfect for me!

The G5 is a nice responsive phone. Overall great value. It's cheap enough that I bought two so I always have a backup. My only 2 complaints are as follows. I hate the phone calling app. Let me repeat. I HATE IT. It always opens to the frequents screen. No way to default it to dial pad. The keyboard icon is small so it is easy to accidently choose a frequent contact instead. Then since the contact needs to be once to dial it is ALWAYS misdialing! Was even worse when I had the phone app on the bottom of the screen and using the fingerprint sensor as a mouse. Had to move the icon to the far left of the screen so I wasnt opening the phone app and misdialing a number virtually everytime I wanted to backup in an app. RRRGGGHHH. The second problem I'm sure is mostly Verizon still trying to force you into overpaying for a phone from them. Since it is not a phone offered by Verizon the app for Verizon backup only let you backup contacts. No picture or app or any other backup works thru the Verizon app. The MyVerizon app is useless but u can access those features thru a browser. And the Verizon phone Visual Voice app doesn't work at all! So If youre a Verizon customer you will have to dial to your voicemail the old fashioned way. Absolutely frustrating because of course I'm paying the same as everyone else for my Verizon account but do not get this extra features. Of course they are just Android apps so It's obvious Verizon intentionally sabotages this phone. So... Moto G5 pretty good. Phone app could use a tweek or two. And Verizon sucks.

Verified purchase: Yes

It's a good phone for the money...

I bought two Motorola Moto G4 phones.....we went from a Samsung 7 to these phones so that's an adjustment. There are a couple things that stand out that I don't care for. We were forced to adjust our settings to "receive calls from anyone" before we could actually receive calls. I've never had to do that before with a phone. Didn't we purchase the phone to receive calls?, , Also, my Samsung 7 had different "notification lights" to tell you if you missed a call or received a text message, this phone does NOT notify you if you missed a call or received a message so you are forced to keep opening your phone. I've looked in settings but cannot find a way to get my phone to let me know if I've missed a call or message., , Further, the cell phone industry only caters to Samsung and iPhone products. My daughter and I have driven from Tennessee to Alabama looking for protective covers for our phones and could NOT find one store who carries covers for Motorola. We ordered a case off ebay but it did not fit our phone as advertised so we had to return it. Finally found one online from MiniTurtle but it doesn't come with a protector for the screen., , The battery life is just ok.....you definitely need to charge it every night, but that's normal with most phones. (there are a couple of other things that I don't care for but cannot think of them at the moment....minor stuff), , The good news is my daughter was riding her horse, dropped her new Motorola phone, and it survived the fall. Of course she had the protective case on it so I'm sure that helped., , I like the fact that you can twist your wrist twice and the phone goes right into camera mode....that's helpful for us because I take a lot of photos of my daughter riding her horse and take a lot of photos of my dogs and cats playing.....phone takes great photos! You can also adjust the settings to "karate chop" twice and the flashlight comes on. This was handy just last night because we were experiencing severe storms and I came home to the power being off at my house., , Bottom line, we miss our Samsung 7's but these phones are a good choice if you're on a budget.

Verified purchase: Yes

Good value, but should have gotten the 16GB model

The Moto G 3rd Gen is a good phone for the price-tag. It's lightweight and has a good battery life - it can last almost 2 days with a single charge. I enjoy that the OS is a near stock android. The camera app is pretty good too, and the HDR function renders beautiful landscape photos., , Speed-wise, it's not the fastest phone but it does the job for most apps. After a couple days sometimes it lags. And that's where regret comes in; I wish I had paid a little bit more and gotten the 16GB space / 2 GB Ram model instead., , It's not just the speed that warrants the better model, it's also the internal space; with only 8GB of internal storage, there're only so many apps you'll be able to install on the phone. That's right, I discovered the hard way it's not all apps that can be moved to the SD card, no matter what size it is; apparently it has to do with each app developer who individually decides if the app can be moved or not. Plus, by moving apps to the SD card, you slow down the device. What's that? You thought the Facebook app was already slow and bloated? Wait until you move it to an SD card! I had to resort to Tinfoil for Facebook instead., , Overall it's a good phone if you don't have many apps and you want something to browse the web, reply to emails and take photos. But if you want a bit more, go for the 16GB/2GB Ram model. A better choice.

Verified purchase: Yes

perfect if you want an affordable smart phone that doesn't get in the way

Switching to one of these from a problematic Windows phone (specifically two Nokia 521s - each fine until I dropped it fairly normally, then a real pain), I realize that my perception may be colored by sheer relief. But that's what this phone is - so much more pleasant to use! Performance is even snappier than it was with the 8GB version I was sent by mistake, which I decided to give to a relative., , If you're going to use many apps or put music on your phone, I'd say the 16GB is worth it. The 8GB version filled up the day I installed all the apps I wanted and tried listening to some music from my Dropbox. (The 8GB phone leaves you about 3.5 GB to work with.) For either phone, the ability to add an SD card brings peace of mind. While I can't speak to how well that works, I can say that the 16GB phone, which has 2GB of RAM instead of 1GB, seems to download web pages significantly faster. The 8GB version was totally fine for me in terms of usability, but I wanted more space to install apps and games and store music, audio recordings, and audiobooks., , I'm not especially picky about cameras and extras, though of course I prefer higher quality. I'm happy with the few photos I've taken. Focusing in the camera app is not as intuitive as it was on the Nokia Lumia 521, where you simply tap anywhere to focus and take the snap. On the other hand, with the Moto G3 there is much more control, in terms of brightness and other useful settings, and I appreciate that more than simplicity, as I'm sure it'll all make sense after a few more uses., , One thing I appreciated about Windows Phone was the live tiles system. It might not be the best for desktop applications, but it's intuitive for phones. Fortunately, the Android icons are just as intuitive, if not more so. Once I found the widgets, I found those intuitive as well. On the other hand, there is one simple thing I miss. On Windows Phone, the Messenger app would always show me through the tile how many new messages I had. Messenger on Android has an icon that doesn't change (though I keep finding myself looking) and doesn't have a widget that does this either. New messages do show up as notices, though. I must say that every app that exists on both OSes is better on Android, so far, and sometimes dramatically better., , One thing that bothers me on any phone or computer is preinstalled bloatware. Reviews were favorable about Motorola's choices here, and I agree: I feel remarkably unburdened by junk when using this system. It is definitely the best phone I've had, with the fewest user interface issues and annoyances. Much of this comes from Android 6.0 Marshmallow as compared to Windows Phone and feature phones, but having a well-designed device only helps., , At first I was concerned that the Moto G3 might not be ideal for T-Mobile, but both phones have always connected via LTE by default, and to any nearby WiFi that I set up. I have no trouble at all with the service., , I am not the biggest fan of the fact that the battery is not user-replaceable, but if you bring the device in, it can be replaced by a technician. I wish I could tell you how many hours my phone stays charged, but all I can really say is that it doesn't run out during the day, and if I forget to charge it overnight, it's still up the next day., , It's been about a week with the (used) Moto G3 16GB now. Basically, I wanted a phone that did what I expected it to and didn't get in the way. So far, it's been exactly that., , Downsides: battery not user-replaceable, still figuring out camera app (also a positive), slim form feels easy to drop without a case, , Upsides: great Android experience, good camera with flash and forward-facing, slim form fits easily in pocket, water-resistant and said to withstand bumps (taking both on trust and getting a solid, some say unnecessary case), screen is big enough to make typing relatively error-free, quick data transfer on T-Mobile

Verified purchase: Yes