145 - 192 de 2.323 resultados
About Apple iPhone 5
Showing slide {CURRENT_SLIDE} of {TOTAL_SLIDES}
So much more than before. And so much less, too.

The iPhone 5 has a remarkably slim design that still makes room for a larger display and a faster chip, Ultrafast wireless that doesn't sacrifice battery life, and headphones designed to sound great and fit comfortably.

All-new design. The thinnest, lightest, fastest iPhone ever.

The iPhone 5 features a larger display, a faster chip, wireless technology, an 8 MP iSight camera, and more. It measures a mere 7.6 mm thin and weighs just 112 grams.

4-inch Retina display. It's not just bigger. It's just right.

iPhone 5 features a 4-inch display designed the right way: it's bigger, without increasing the size of the phone — typing on the keyboard, for instance — you can still do with one hand.

Faster graphics.

The A6 chip also offers graphics performance that's up to twice as fast as the A5, so you can power through graphics-intensive apps and games and enjoy higher frame rates for smoother, more realistic gameplay.
eBay has provided more information about this product above and is not affiliated with or endorsed by Apple.
Price Trends
Apple iPhone 5 - Price Used
Used Price*
from $41 to $66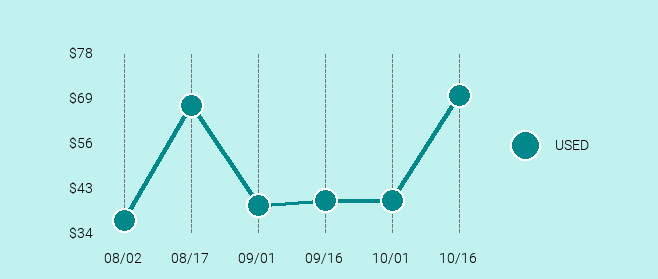 *The average sold price is calculated based on "Buy It Now" items sold within the 90 day period described above (excluding shipping and handling). Each interval represents a 15 day period. There is no guarantee that items will always be listed at a price within the provided range.
Compare Similar Models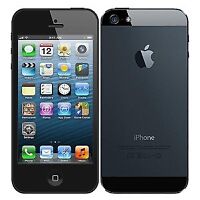 Apple iPhone 5
Display Resolution
640x1136
Operating System
iOS 6, upgradeable to 10.3.3
Camera (Rear/Front)
8/1.2 MP
Dimensions
4.87 x 2.31 x 0.3 inches
Internal Memory
16/32/64 GB
Processor
Dual-core 1.3 GHz
Battery Capacity
Up to 8 hours 3G talk time (1440 mAh)
Showing slide {CURRENT_SLIDE} of {TOTAL_SLIDES}
Top 5 High ratings
Top 5 Low ratings
Best iPhone to date

I love the iPhone 5 because I needed a upgrade so the Apple iPhone 5 does it for me the design is incredible and well crafted and made the screen is the right size and love the lightweight feel I can hold it in one hand so this iPhone is the best one out there for me everyone is different am amazed Apple does still support it which is great because it's great for someone that can't afford the latest that are to expensive so iPhone 5 is definitely worth it the battery may be somewhat good still won't stop me from using it because gets the job done highly recommend iPhone.

Verified purchase: Yes

A compact, capable product . . . but understandably bound to Apple services.

Live in fringe coverage for Verizon . . . battery life suffers 'cause phone is in constant high-current mode. Also believe the antenna marginal compared to other products I've owned . . . some places I've enjoyed good mobile phone coverage are problematic with this phone. Also difficult (if not impossible) to load my own mp3 library of music/audio-books. The PC based interfaces to this phone are not very user friendly compared to Android OS., , I'm sure this phone is probably adequate to the needs of the vast majority of users. But I'll be trading out for an LG in the not too distant future.

Verified purchase: Yes

2016/2017 And Still.

For a smartphone that is 4-5 years old the iPhone 5 is still a versatile gadget. It's not the lighting fast iPhone 7, but this phone won't lag you to death. After being plagued by screen disease on the iPhone 6 Plus and after 5 replacement phones from Apple and my phones Carriers insurance i finally became fed up and bought the last good iPhone I owned., , Expect to replace the battery on these phones, due to the age the battery life will no longer be acceptable for every day use. The good news is that replacing the battery is easy and can be done with the right tools. Watch a lot of YouTube videos and take your time.

Verified purchase: Yes

iPhone 5, Smooth Performance coupled with an Excellent exterior design and perfect premium looks

Including changes in both size and dimension.. apples first change in design is almost very well received the first handling this phone gave me impression that i am using a very premium phone ,,such is the build quality of iphone with 4inch screen and 326ppi the screen is amazing with its retina display the icons are nice and watching videos and playing games really fun on this gadget camera department always be the best eventually android is catching up in camera department but still apples iphone 5 camera is superb very easy interface and picture quality is amazing processor is amazing fast sine ios is optimised accordingly.. multitasking is great ,,there is no lag what so ever coming to call quality its really good.. signal reception is good and connecting to data and wifi is also simply great and reduced thickness and weight adds to the comfort of handling the phone coming to disadvantages the price tag .. for the lesser price there are several android devices which are better in camera , processor and resolution department but i would say one thing apple is apple and if you can afford that luxury go for it. Complementary cases and accesories from other externals do the perfect couple!!!

Verified purchase: Yes

Had the unlocked iPhone 5 for almost 8 weeks 11/2015, I'm saying YES!

Using this unlocked iPhone 5 with Straight Talk. Reception is SO much better than the Samsung Ace I was using. I have the same phone service as before, just switched out my phone but now outside the city I can actually drive between cities and still have decent reception for calls and texts. With the Samsung it was literally like having a brick, dead, nothing. Now the battery is another thing. It just does not seem to be able to go a whole day on a charge, so I keep a charger handy. However, to make it tolerable search online for how to increase your battery time, and there are plenty of good articles. Fresh out of the box it was horrible, but after following some advice it's much better than it was. By the way, the phone is all around a good phone, all functions work, it's fast, I don't see how a phone could be faster!

Verified purchase: Yes